A Relaxing Trip to the Island of Rab in Croatia
In class one day I asked my language teacher to recommend a relatively close and flat island for a three-day trip. She immediately said, "Rab," because it has everything: a scenic drive, an old Adriatic downtown, rocky beaches and sandy beaches.
We ended up spending two days and nights on Rab, and it was incredible (despite not-so-great accommodations - more on that later). I recommend Rab for those with and without kids!
How to Get There
Rab is much closer than the islands off of Split, which is why we decided to explore this area. We did not want to waste too much time in the car. From the north, east and south are highways that get you close, and then you hop on the local road near Senj to see the beautiful coast and get to the port.
At Stinica you hop on the ferry for the 20-minute ride to the island. It is a vehicle ferry, which is nice because then you can explore in your car once you get on the island. Bus trips also go to the island, so that is an option sans car.
The ferry runs every hour most months of the year, which makes it a bit less stressful than going to some of the larger islands.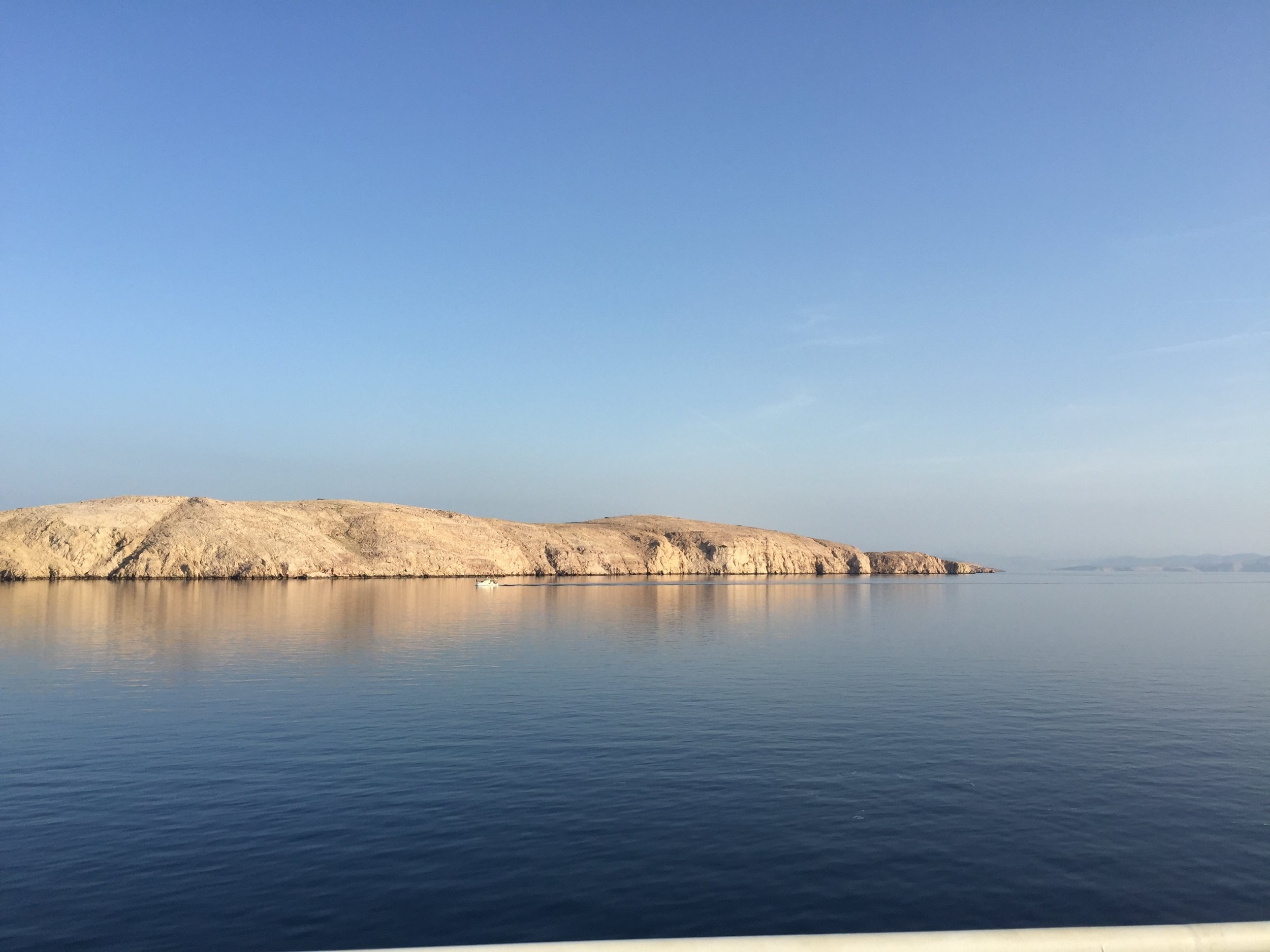 What to Do There
Four Churches in Rab
The city of Rab on the island of Rab is famous for its four churches that can be seen on the cliff. We didn't explore too far into Rab, but we did drive out onto the point and get a great view of the Adriatic.
Beaches
One of the more famous beaches on Rab is Rajska Plaza, or Paradise Beach as it is more widely known outside of Croatia. The beach is large and sandy, and the water is shallow and safe for all ages. Many bars and restaurants sit on the beach, making the beach a place you can spend the whole day. There are tons activities for kids off of the beach, like trampolines and playgrounds, so I imagine this place is swarming in July and August.
Food
D&D Bistro had delicious food and a great view. If you go early enough in the season you can drive there. You can also use your paddle boat or kayak to get there. Had I known the apartments and pool were so great, I would have tried to stay there as well. Our apartment had a wonderful location, but it was not summer ready or very nice (aka had no A/C). But its pool was pretty cool, so we managed.
Restaurant Dupin was a two-minute walk from our apartment, and the seafood platter was outstanding. We also rented paddle boards from them, even though none of their other water sports were available (paddle boats, kayaks). This place was busy every night, so it seemed like most of their menu was good.
When whittling down you choices of Croatian islands to visit, I hope that this helped!
And to continue following the Traveling Newbies' journey, be sure to sign up for our newsletter!