Istrian Wine Tour and Delicious Istrian Food
Winin' and Dinin' through Croatia
As we have shared with you before, Istria is a beautiful place full of good scenery, food and wine. This past May, we were able to get a group together to really explore the peninsula. With the help of Krug Travel, we explored wineries and restaurants that made the weekend one to remember.
Here is why I highly recommend Krug Travel, Marko and Mateo:
For the tour, you pay for the day and that is it - that fee takes care of driving from place to place plus the tastings at each place. So easy!
You work with them on the destinations.
This is a fun event for a group, and their vans fit several people.
The tour guides themselves are hilarious, outgoing and very knowledgeable about places in the area you would not find otherwise.
Wineries
Day One of our winery tour started with our amazing AirBnb rental in Bale, Croatia. What a find, this one. The house is an old style building with so much charm you might just have to pinch yourself. The guys leading the tour picked us up. We then went to a Mussel and Oyster bar (more about that later), followed by a day full of amazing wine.
Sidenote: Okay, I will do my best to remember all of the amazing wineries we visited - but please excuse me if the wine muddled the names and order a bit...
Roxanich
In what looks like an old storage building you find great wine and wonderful hosts at Roxanich. In fact, this winery is in such a small village that we took a wrong turn and had to turn around. Our guide joked that he was showing us Nikola Tesla's house on that turn-around.
Misal
This was actually one of my favorites of the weekend. I am a huge fan of sparkling wines, and this tasting includes five of them. Misal, run by two sisters who shared their father's passion for making remarkable wine from Istria.
Terms like Champagne and Prosecco can only be used if the wine is actually from one of those regions. But the Misal sparkling wines are as good as any Champagne or Prosecco I have tried (or afforded). I recommend scheduling a tasting if you plan to visit this one!
Open Cellars Day
Day Two was spent enjoying the annual Open Cellars Day, where wineries all across the country open their doors and pop their corks for free. We hired our tour guys for the second day to make sure we got our fill of amazing Croatian wine. I highly recommend you look into this event if you plan to visit in late May! Our neighbor Slovenia has a similar event, as well.
Benvenuti
We had just had a decadent lunch at Stefanic (see more below), but the hors d'oeuvres that Benvenuti served with their wine tasting were delicious.
Fakin
Fakin Good Wine is the slogan, and the wine tastes as fun as the slogan sounds. They even had a bottle with the hubs' and my initials! So of course I had to take a photo.
Sadly no t-shirts for souvenirs. But the photos help!
Cosetto
Although a winery, Cosetto could also go with the food section. Their beef tartare and duck pate were unreal. You know, I ate neither of those things before we moved overseas but I really love to order either as an appetizer.
The tasting took place in a beautiful wine cellar.
Matosevic
Matosevic gives you a tour and has an amazing outdoor seating area. I highly recommend this winery if you have a large group.
Food
Fresh Mussels and Oysters
Day One's lunch widened my palette! You see, we went to a fresh oyster bar. Anthony Bourdain traveled to this location on the Limski Canal and loved it so much that they affectionately call it Tony's Mussel and Oyster Shack or something like that. This place is so elusive that it is tough to even Google it - which is why having a guided tour is so valuable.
You can see the men who work there harvest and clean the clams and mussels right in front of you. Sprinkle some lemon juice and you are good to go. Now, the first time I tried a "fresh" oyster on a half-shell was at a buffet in Florida. After shooting it back I promptly spit it back out. Needless to say, I expected to skip this experience all together.
But I tried both an oyster and a mussel and liked them both! White wine chasers help, but there is really nothing like tasting something that came straight from the sea you are staring at.
Dinner in Bale
Night One was spent right in Bale, after we finished sipping wines. We walked up to a restaurant that had great reviews online, Kamene Price. We were tucked back on a little terrace, and the food was delicious.
Homemade Pasta
Day Two lunch was the highlight of the weekend, I must say. Where experienced reigned with Oysters and Mussels, high quality food reigned at a small agroturismo outside of Motovun called Stefanic. We were skeptical of an hour-long drive from Bale (not to mention starving), but it was welllll worth the wait.
The owners served us three courses of delicious food, local wine and a great view. The best for me was the homemade truffle pasta, and I think the hubs loved the homemade cheese ravioli best. The dessert was interesting and not my favorite, but for 20 Euro per person (YES, 20 Euro for three courses and wine), I have NO complaints.
They also have rooms, so you may look into spending a night here and seeing Motovun while you are in the area (which we missed, by the way!). Bonus? They have a cuddly dog that hangs out with you!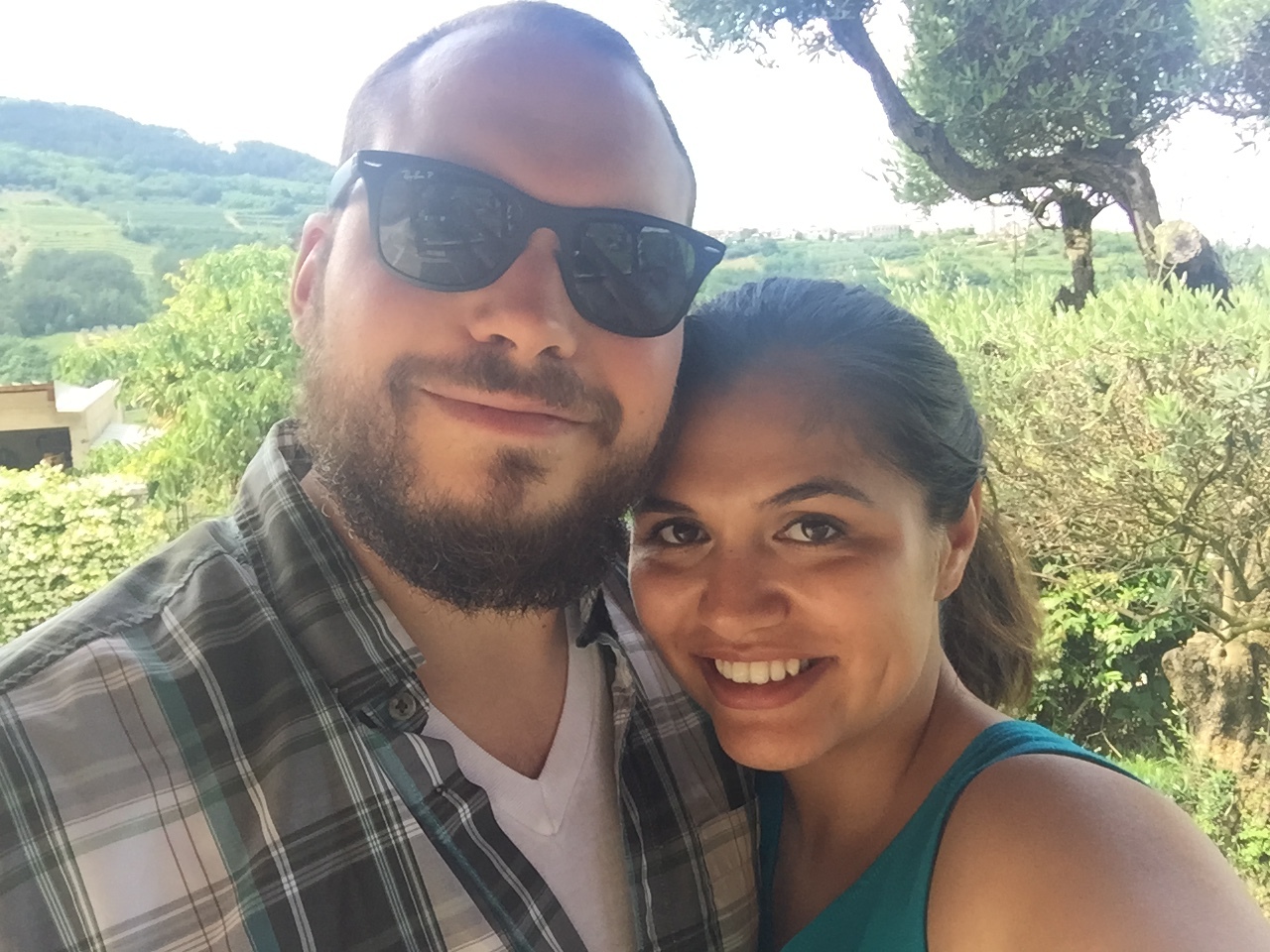 Fine Dining at a Beautiful Winery
Night Two was meant to be at Monte, Croatia's delicious Michelin Star restaurant in Rovinj. But, we decided instead to stick with the larger group and dine at Meneghetti. This venue is often used for wedding, and I can see why. The vineyards are gorgeous, the rooms adorable and the food very good. Yes, a bit pricey, but a tasting menu is the way to go if you want to really try homemade Istrian food with polish.
This was also the 40th Anniversary of my in-laws, so the dinner felt extra celebratory. The waiter brought out a flare with dessert.
Needless to say this was quite the weekend. I am so glad we had the opportunity to really explore Istria, past the big cities that most people visit. I highly recommend you add this trip to your Croatian itinerary!
Want to keep up with our travels or want more ideas for your next trip? Be sure to subscribe to our newsletter!